Self-Care During A Pandemic: Five Ways To Boost Your Immune System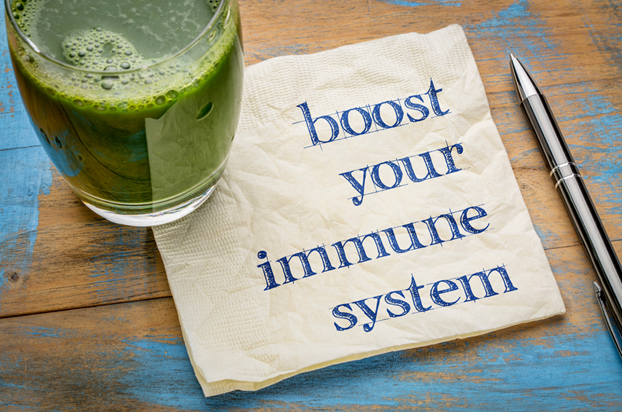 Without a vaccine or approved drugs to prevent or treat Covid19 current standard care relies solely on supportive treatments, and in severe cases, those that can be provided in a hospital.  While many are focused on positive, pro-active methods such as social distancing, face masks, and handwashing, as they should be, don't neglect one of our greatest defenses- the immune system. From supplements to lifestyle changes, here are five things you can do to boost your immune system during the Coronavirus pandemic.   
 
Taking a combination of vitamin C and zinc
Among the many nutrients required to ensure proper immune function, vitamin C and zinc are the most effective through their complementary roles in supporting immunity. Vitamin C is mainly responsible for maintaining healthy skin, teeth, muscle, and bones but has a limited effect on antibody production -- which we now know is crucial to protecting us from contracting diseases like COVID-19. However, be sure to hydrate well when taking Vitamin C supplements because they are known to be associated with kidney stones. As such, check with your doctor if you have a history of kidney stones or kidney disease prior to taking supplements. 
In regards to Zinc, it affects roughly 2 billion people worldwide, zinc deficiencies may be the most common cause of secondary immunodeficiencies in humans because of zinc's ability to proliferate antibody production. When taken together, zinc and vitamin C provide antioxidant protection for your immune system to function normally.
 
Get enough sleep every night
Your immune system is like your computer; it needs to rest, so it doesn't overheat! When we're asleep, our immune system releases proteins called cytokines, which are essential for cell signaling. Whenever there's inflammation, infection, or stress present, specific cytokines need to increase to help fight this. Sleep deprivation has been found to decrease the production of these protective cytokines. Amid a pandemic, it is vital to get a full 7 to 8 hours of sleep each night to keep your immune system in tip-top shape. If your sleep is interrupted by a busy work week or other factors, try making up for the lost rest with naps. Naps that are no longer than 30 minutes each have been shown to offset the harmful effects sleep deprivation has on the immune system.
 
Fermented foods or probiotics
Our digestive system is composed of trillions of bacteria, which modulate our immune system and keeps it stable. Beneficial bacteria aid in the absorption of vitamins and minerals, produce anti-carcinogenic, antiviral, and antifungal substances, and create enzymes that protect us from illness. Unfortunately, factors such as a poor diet, overusing antibiotics, or environmental toxins many of us are guilty of creating imbalances in our systems. To regain our health, we must take care of our guts. Introducing more fermented foods or probiotics is an easy way to populate your stomach with these organisms. Fermentation increases the bioavailability of beneficial nutrients like amino acids, minerals, vitamins B and C. Fermented foods include sauerkraut, kimchi, pickles, yogurt, and kvass.
 
Spend time outside in the sun
The link between your immune system and vitamin D is indisputable. Low levels of vitamin D have been associated with increased susceptibility to infection, disease, and immune-related disorders. Because our bodies naturally produce this vitamin when exposed to the sun, the peak of cold and flu season is in the winter. Fortunately for us, we can take advantage of summertime to maintain healthy blood levels. Aim to get 10 to 30 minutes of midday sunlight, several times per week. However, if your skin is sensitive to sunlight or other factors prevent your skin from producing vitamin D, you can take supplements. You can also find high amounts of vitamin D in fatty fish like tuna, mackerel, and salmon, some dairy products, orange juice, soy milk, cheese, and egg yolks.
 
Be mindful of stress
Our ability to fight against illness and disease is damaged when we suffer from chronic stress. Cortisol, the primary stress hormone, has been found to trigger chemical reactions that, among other things, decrease white blood cells, increase tumor development, and increase the rate of tissue damage. People who meditate regularly, exercise, sleep enough, and eat healthy may have better immune system functioning than those who don't take necessary steps to protect mental health.