Facial Massage Techniques for Bright Eyes and Plump Lips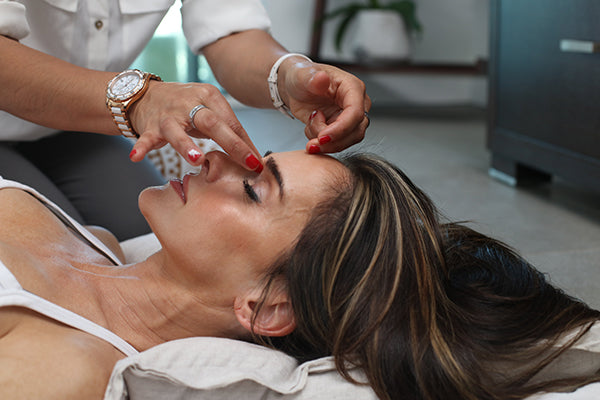 Relax your muscles, sans needles.

If you've been heavily debating a more invasive treatment to smooth lines and plump up but are feeling on the fence about it, give these simple rituals a try first. Facial massage may be #trending, but it's far from new and novel. In fact, it's incredibly time-tested, and is a beauty staple practice in ancient modes of medicine like Traditional Chinese Medicine and Ayurveda.

Gua Sha
This ancient Chinese practice is not only excellent for smoothing fine lines and wrinkles by relaxing and toning the facial muscles, but it's also detoxifying and helps to depuff by boating lymphatic drainage. All you'll need is one stone gua sha scraper tool to get started.

Technique is important here, so it's crucial to do a little bit of preliminary homework to get an idea of what you'll need. You'll certainly want to do this practice in tandem with a facial oil to create slip, so that you don't tug on the skin, irritating and wrinkling it. Make sure your skin is thoroughly cleansed and moisturized, then pat in a significant amount of oil to create that emollient slip.

Hold the gua sha tool flat against the skin, not perpendicular to it. Gliding the tool across the skin with the most skin-to-stone contact is going to give the most beneficial, relaxing results. Move slow. You can't help but feel incredibly calm while doing this, so we recommend trying ti before bed, or in the morning if you typically feel anxious at the start of your day.

Start with your neck. To open up the lymph passages and get the most valuable results for the time spent in this practice, start by opening up the neck. Move the tool downward at the back of the neck, upward on the sides of the neck from the shoulders up, and then back down again in the front of the neck, wiggling the tool at the top shelf-like area of the collarbone. This is where the lymphatic passages drain, so giving them some stimulation will help the rest of your practice.

Cryo-rollers.
Cryo, in this case, is just a fancy word for cold, or ice. Investing in an ice roller won't set you back far in the wallet, but the results will manifest right away. After popping it in the freezer for a few hours or overnight, your magic wand is ready. Feel instant relief of inflammation, puffiness, even redness and discoloration with a few passes of the cryoroller. Roll along the jawline to contour, across the lips, under the eyes, and between the brows as well as across the forehead. It's worth it just for the feeling.

Dry Brushing.
While dry brushing is an incredible ritual for exfoliating the body and promoting lymphatic drainage as well, you can incorporate it into your facial routine, too. However, you won't want to use a harsh body dry brush, especially not the one used on the rest of the body. You'll want to seek out a small, gentle, soft dry brush specifically designed for the skin on the face, and only use it on the delicate facial and neck skin. Work in small circles on clean, dry skin (prior to product application) in an upward motion. Watch the skin flush pink from boosted circulation, and then apply your products. Your stimulated skin will drink them up, allowing for ultimate nutrient absorption and a plump, radiant glow.

A cold spoon.
Yes, you read that right. There are plenty of rounded massage tools on the market, and we are partial to the kansa wand, However, in a pinch, a spoon will work just fine as a massage tool for the lips! Put it in the fridge or freezer prior to use if you'd enjoy a cooling effect, otherwise, just place the rounded under side of the spoon in the center of your pout. Make sure you're hydrated and not wearing any makeup; lip balm is fine. Massage in circles around your lips and the perimeter of your mouth to plump your pout and relax any tight muscles around the lips from straining or stressing.

Your hands.
Tools are fun and effective, but we possess magic at our fingertips. It's important to practice—we want to be gentle yet intentional with the delicate skin around our eyes and in general on our face—so don't go hard on your face the way you would to your feet or shoulders. Make sure you have slip with a quality facial oil or moisturizer and use the pads of your fingertips as well as the flat part of your fingers just underneath the tips for a bit more glide and surface area. Use your knuckles for more intense muscle release around the jawline, and delicately pat with your fingertips around the eyes. It can be intuitive, but look for tutorials if you have specific goals in mind.