Is it Safe to Go to a Nail Salon During the Pandemic?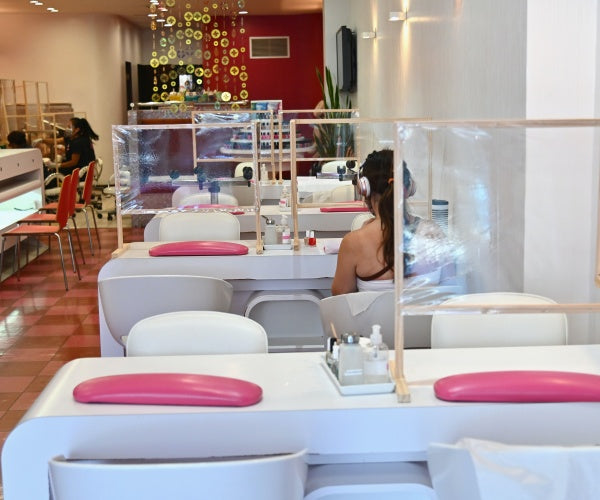 According to experts, getting your mani-pedi at a nail salon is not without risks. You're indoors, breathing the same air as other customers and staff, and are in close proximity to the technician. While getting your nails done is a wonderful way to practice self-care during the pandemic, experts warn that safety protocols must be in order before your book that appointment.
The Centers for Disease Control and Prevention published guidelines for owners of nail salons advising them to maintain six feet of distance between clients, install air filters, and require personal protective equipment such as face masks and shields for both employees and customers.
According to Well + Good, salons should also take temperatures of clients and require that all payments be contactless through apps, or by advance authorization by phone. Sunitha D. Posina, MD., a New York based board-certified internist recommends that nail technicians wear both face masks and shields and change their gloves with every client. Nail stations should
have hand sanitizers available and all surfaces and tools should be sanitized regularly.
Many nail salons have installed acrylic shields between clients and technicians to protect both parties and are also providing personal tool kits for each customer. It's less risky if you have or bring your own equipment, say experts.
But Posina points out that the biggest risk is your close proximity with another person for an extended period of time. Dr. Erin Bromage, a comparative immunologist and professor of biology at the University of Massachusetts Dartmouth, says that while you can get the virus if an infected person coughs or sneezes nearby, you can also get sick if you are in an enclosed space for a long period of time where the virus has been released by someone just breathing into
the air.
"The longer time you spend in that environment the more virus you breathe in, the more it can build up, and then establish infection," Bromage told CNN. "So, it's always a balance of exposure and time. If you get a high level of exposure, it's a short time and if you have a lower level of exposure, it's a longer time before that infection can establish."
Posina told Well + Good that one solution is to have an express version of nail services such as eliminating the traditional soaks and massages, and opting for a bare-bones "cut and color." She also advised asking your nail salon what extra measures they are taking to ensure social distancing and sterilizing their equipment before you make an appointment.